As avid travelers who enjoy the great outdoors while also needing to keep our gadgets juiced up, finding the perfect portable power station is crucial. Enter the Bluetti AC200Max, a beast in a box that promises to keep you powered up, whether you're camping in the wild or enduring a power outage at home.
We plan to put the portable AC200Max to the test and see just how much we can throw at this thing before we give it our verdict. If you have any questions after our Bluetti AC200Max review, then we haven't completed our mission so read on and let us know if there's anything we've missed.
AC200Max First Impressions
Out of the box, the Bluetti AC200Max impresses with its rugged design. Despite its hefty weight (28kg or 68lbs), the built-in handles make it relatively easy to move around (though you're not trekking over the Alps while lugging this thing). The large LCD touch screen is a nice touch, offering clear insights into power usage and battery status at a glance plus the ability to enable/disable AC or DC outputs at the touch of the screen.
We've gotten used to the bluetooth Bluetti app (Android or iPhone) with our other Bluetti portable power stations so it's nice to see the AC200Max also includes Bluetooth. Unlike most of the others though, this unit has additional information right on the screen so rather than having to open our phones to dive deeper into current power settings and info, it's nice to be able to access it directly on the device itself. It also seems to track issues which can be great if running into problems with certain devices down the road.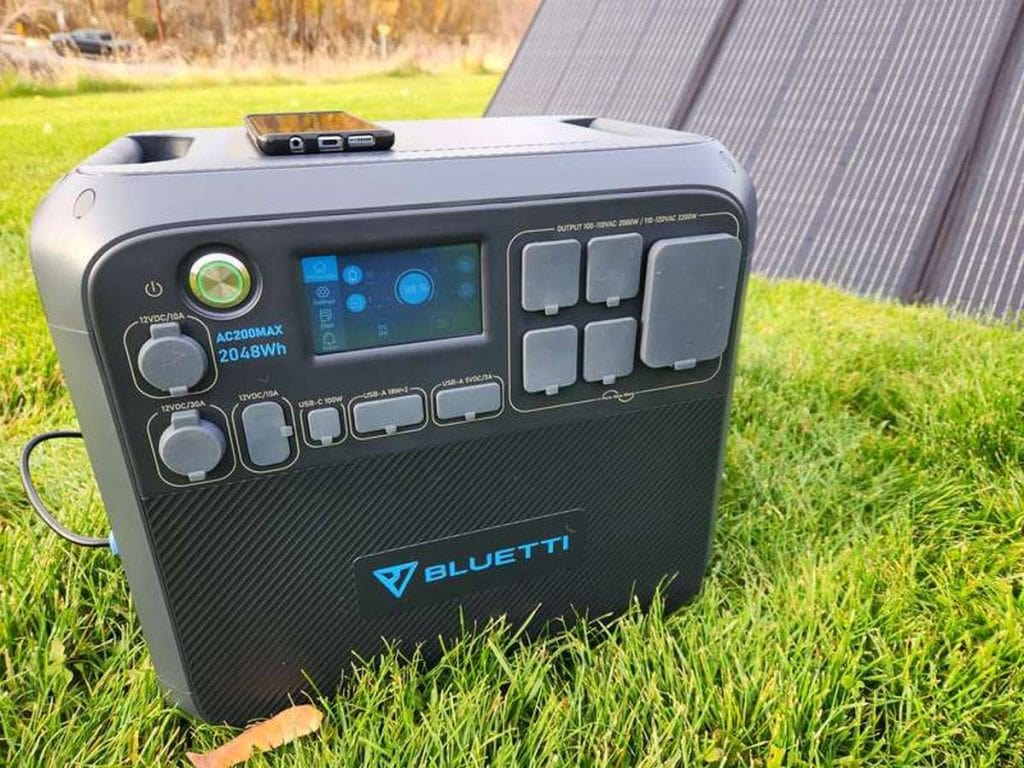 Bluetti AC200Max Inputs and Outputs
With it's 16 ports and dual wireless chargers, including its built-in 30A NEMA TT-30 outlet and a 12V 30A DC outlet, this power generator seems well geared up for the RV, campervan and van lifer crowd. The addition of a USB C 100w port is great for laptops that power themselves via USB and saves having to lug out the extra laptop power supply when working on the go. Being able to wirelessly charge both our phones at the same time is an extra bonus as we usually fight for who gets that privilege and the plethora of USB inputs should be enough to satisfy any of the digital crowd and their visiting friends as well.
Turning on the AC200Max for the first time showed it's power level at 67%, which is great if you bought the device and didn't have time to charge it up before heading out. Plugging in the included AC charger, we immediately noticed the fan noise from the AC charger (likely to keep the charger cool while running). While the sound isn't loud (think computer fan on high), it is definitely noticeable however it's nothing like a gas generator running. I had it plugged in only a few feet from me while charging and the sound was easily drowned out by the fan heater in our office whenever it kicked in.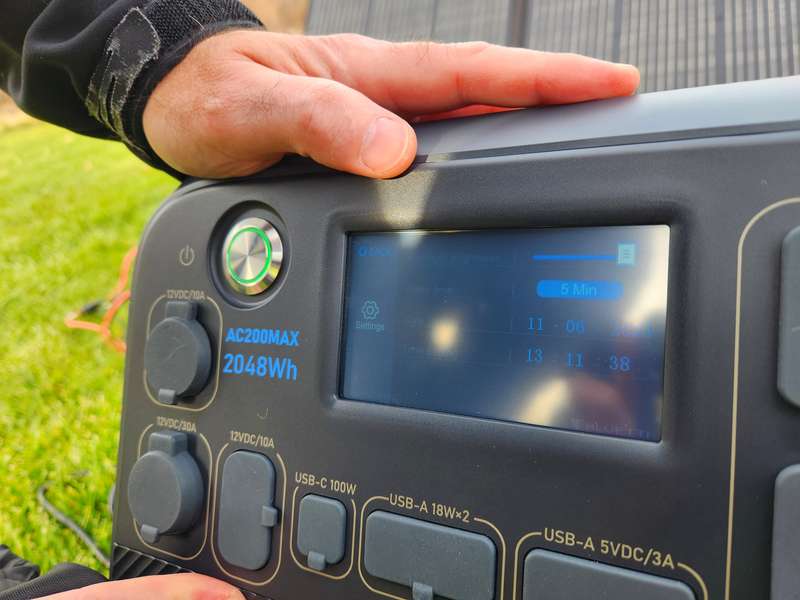 With all the inputs on the left side of the device, it keeps the front outputs clear when recharging either via AC or if you have solar panels plugged (bonus that it can actually charge with both at the same time for some super quick charging potential).
To start things up, there's a nice silver power on button and you can have the LCD dim after a while if you don't need it running (can be enabled/disabled in the touchscreen options). The LCD also lets you set the brightness right in the settings which is another big plus for using it outdoors on a sunny day.
Like most portable power stations, the Bluetti AC200Max features rubber style plugs to keep the ports dirt, sand and water free when not in use. Also, just like most other portable power stations, it's important to note that the AC200Max isn't waterproof or designed to be left in the rain per se.
AC200Max Power Capabilities
With a whopping 2,048Wh capacity and 2,200W AC Pure Sine Wave output, the Bluetti AC200Max, with it's up to 4,800w surge ability, makes this power station a real powerhouse. It effortlessly charges everything from laptops and smartphones to electric grills, mini-fridges, deep fryers and even blenders. The plethora of ports (16 in total plus the wireless charge) including USB, USB-C, AC, and DC outlets, ensures you'll never run out of places to plug in.
Quickly scanning the specs, it seem there's enough power here to keep things running for days and we will eventually put it through it's paces. Though it's not a cheap option, the fact you can add in extra battery banks to quickly boost it's capabilities is a nice option without having to pay for an entire extra power generator. The AC200Max allows up to 2 extra battery only devices (B230 @ 2048Wh or B300 @ 3072Wh) bringing up the total power to a possible 8,192Wh! That's huge!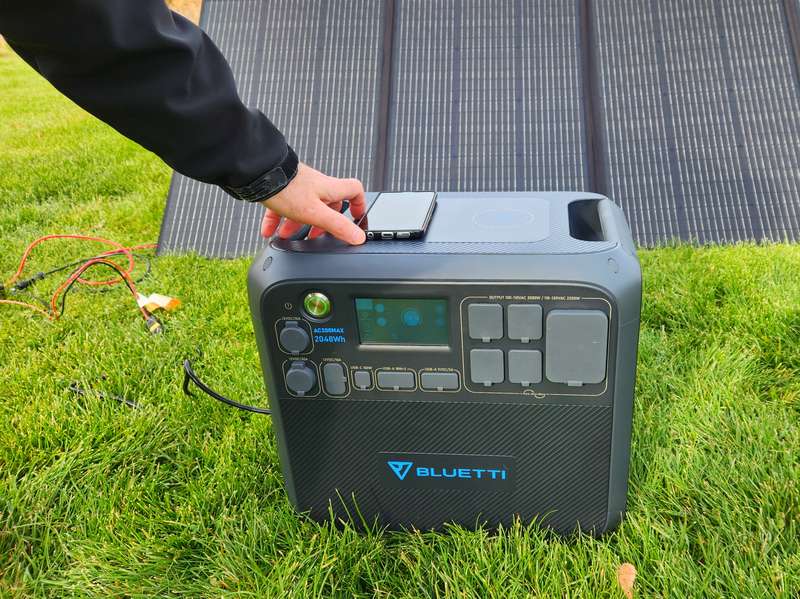 The AC200Max can charge itself via AC wall power, DC solar, 12v DC car charger, AC/DC traditional generator or combos thereof. It definitely allows a lot of options for charging so how long it takes to charge will depend on how you're powering it and how much power those options have. From 67%, I can say it took approximately 1.75hrs to fully charge up to 100% using around 475w from the included AC charger. That seems to be in line with the estimated 5.5hrs from empty to full via AC given in the literature so that's a nice plus.
Solar Charging the Bluetti AC200Max
The ability to charge the AC200Max via solar panels is a game changer for off-grid adventures. Though solar panels are sold separately, pairing it with a powerful set of solar panels makes for an efficient solar generator system and is where this thing really shines. With a max input of 900w of solar energy via the built-in MPPT controller, on a sunny day, you can fully charge it in about 3-4 hours which is great for a device of this size.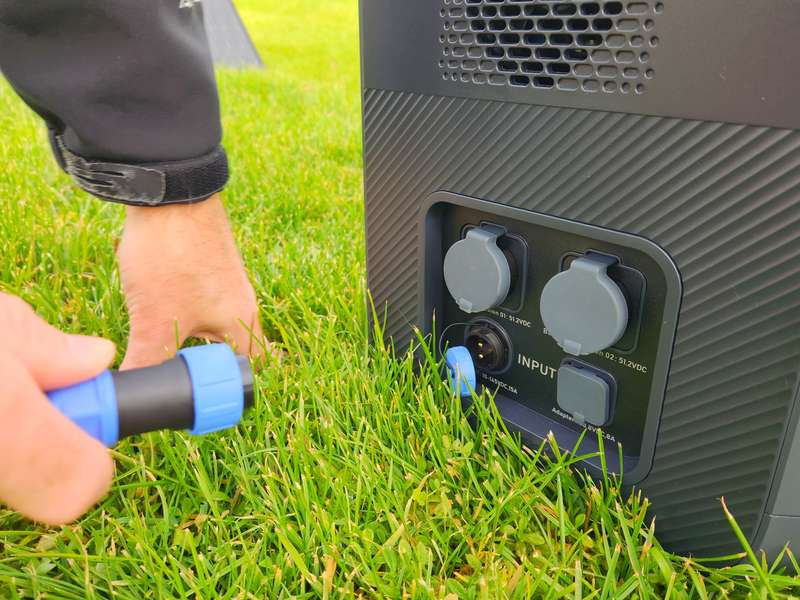 We tested charging our Bluetti AC200Max with a pair of BLUETTI PV350 Solar Panels, each with a max of 350w and the Bluetti handled the 700w input like a champ. Since we hadn't emptied the AC200Max fully at this point, we can't say how long exactly this takes from empty however the numbers seemed to correspond to the solar input we had that day (which unfortunately, wasn't as high as we've seen in Summer as Fall has rolled in and cloudy days are upon us.)
According to what we saw, on a good day we should be able to beat the AC wall charger with that 700w setup at just under 5 hours. With good sun and maxing out the 900w solar panel max input, hitting the 3.5 hour mark as they suggest should be doable from empty.
Hooking up the Bluetti AC200Max to both solar panels was easy with the included MC4 to DC input connector. We simply ran our 2 solar panels in parallel and plugged them in. MC4 style connectors are the leading solar panel style connectors we've been seeing lately however if you have a 3rd party solar panel then there are cheap conversion connectors on Amazon you can pick up.
Other AC200Max Features
The wireless charging pads, the ability to charge up to 16 devices simultaneously, and the included solar charging capability make the Bluetti a versatile companion for modern nomads. Additionally, the Bluetti Bluetooth app allows for easy monitoring and control. While the app works better when fully logged into the system, it does give you the option to just bypass this for local only connections. While we would like to see a few more features added to it, it's still a great extra tool in your solar arsenal and can help you ensure that your solar panels are providing optimal power as the day progresses and whether it's time to move them to catch more sun.
Including a larger 30A NEMA TT-30 outlet on the AC200Max to power up an RV or trailer is a great bonus and allows you to supplant your system if you need a little extra power to run things whether completely off grid or staying at campsite. Since most campsites in North America have strict no noise policies between certain times of the day, running a traditional gas, propane or diesel generator isn't possible. Even when the AC200Max is under a strong load, the fan in the unit pales in sound compared to a traditional generator and should easily fall under the strictest no noise policies.
Whether you use that extra power to make a few hundred cups of coffee, run your AC unit for most of the afternoon or run your CPAP every night for a week is up to you. I vote on using it to power up the old blender and make some icy drinks in the heat of the summer and enjoy the little gifts technology has given us.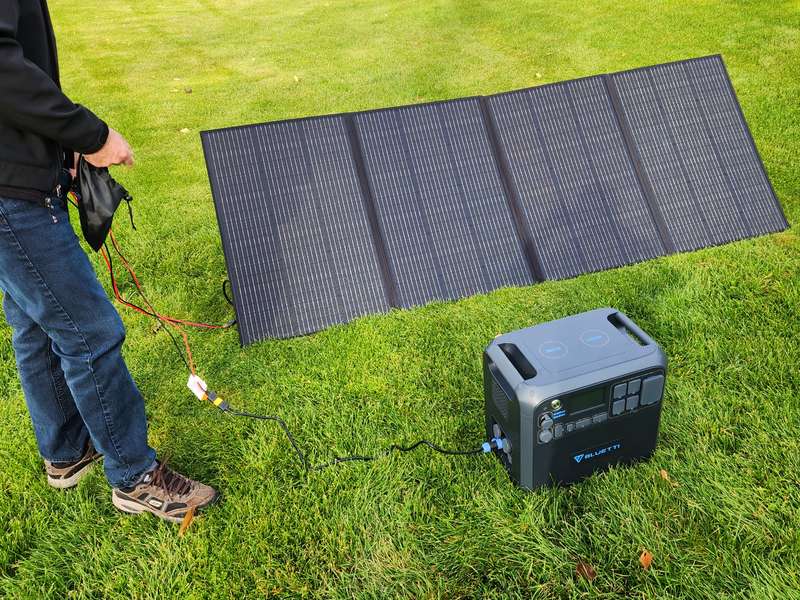 Bluetti AC200Max Price Point
The AC200Max is a significant investment, but for those in need of reliable, high-capacity power on-the-go, it's a worthy expenditure. While it is definitely more expensive in comparison to the initial cost of a comparable gas or propane generator, the fact it can be charged up for free everyday via solar power means that the total cost of ownership is going to be reduced when you don't have to buy gas, perform oil changes or worry about wear and tear on the engine. Couple in lack of noise and lack of noxious fumes allowing it to run safely indoors or outdoors within feet of you means it can also go places a traditional generator can't.
In addition, the longevity and durability of LiFePO₄ cells means that even if you emptied and recharged your AC200Max every day for 10 years, it would still retain over 80+ of it's max charge. That means that you should never have to worry about overusing it. The AC200Max is clearly meant to be used.
Bluetti AC200Max Positives
While there are plenty of good things to say about the AC200Max, we love that there are plenty of ports on it. The AC200Max can also handle a generous amount of solar input (900w) and being able to charge it via AC and DC simultaneously can make a quick charge so much quicker if in a rush.
We liked the solid feel of the unit as it seems to be well built and looks like it can take some abuse. We can see it being popular with RVers and van lifers and even find a nice spot in the trademans van or truck to charge up their power tools when a power plug isn't readily available. With 2046wh of power, it should be able to keep up with most demands placed on it in a day.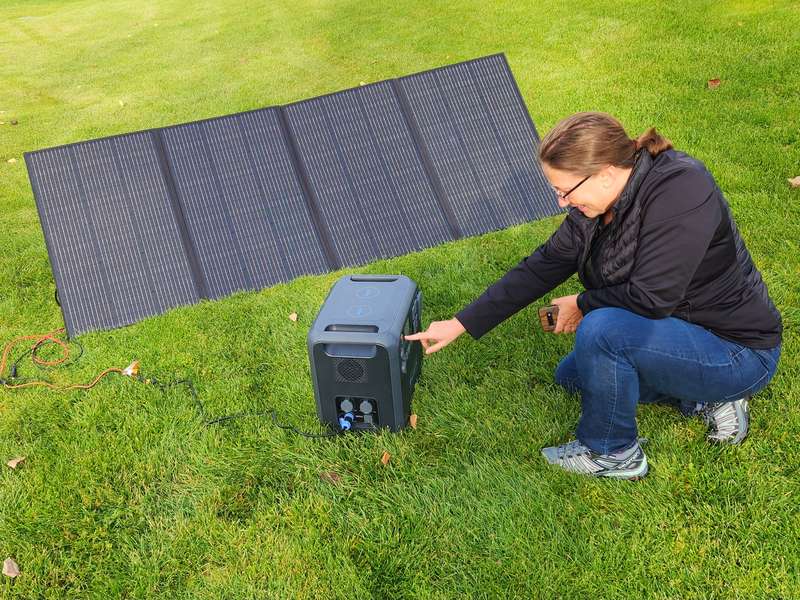 AC200Max Negatives
A few things we noted with the Bluetti AC200Max that we didn't care for was the lack of AC eco mode charging. We've seen this on a few other portable chargers and like it when quickly topping ours up. Since the input power is reduced, in Eco mode the fan barely has to run making the charge process longer but much quieter. As such, the fan on the included AC charger, while not unbearable, is louder than we cared for.
The AC charger also doesn't have it's own power button so you can't just leave it plugged in and top off the batteries every few months during the winter or times when you're not using it consistently. It needs to be unplugged for it to fully shut down which can be a pain. Due to this, the AC200Max should definitely not be used as a giant UPS.
The Bluetti App, while having gotten better over the years, is also still lacking in a few areas, most notably in the settings options when compared to the touchscreen options on the AC200Max itself. It would be nice to have access to all the same settings in the app however that's more of a nice to have feature rather than a must have in our minds and many of the competitors don't even have that ablility.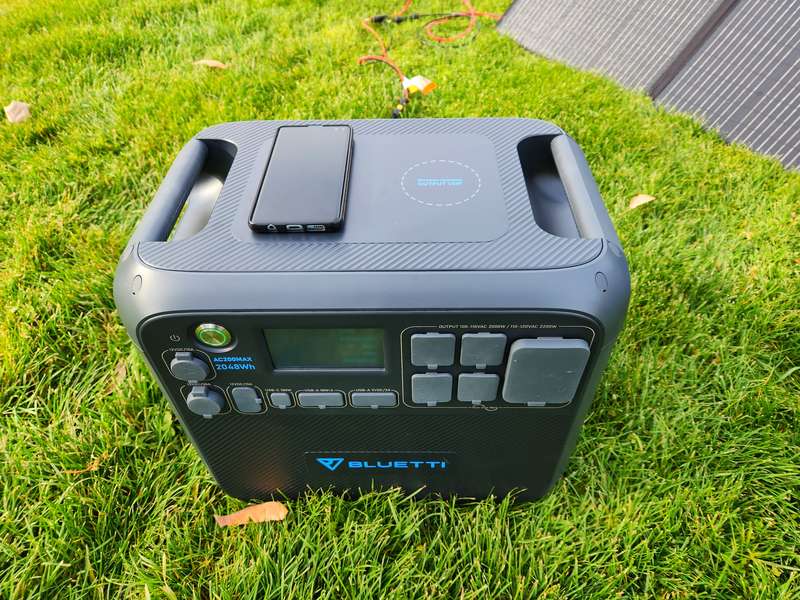 Bluetti AC200Max Review Verdict
The Bluetti AC200Max proves to be a reliable, robust, and versatile power solution for travelers and homeowners alike. Its high-capacity, plethora of charging options, and fast solar charging capability make it stand out in a ever-crowded market. While the price may be steep, the value it provides, especially for those serious about staying powered while on the move, is undeniable.
We can see RVers, van lifers, tradesmen and emergency preppers loving the device and, when you couple it with a decent solar setup, it can be a great portable power generator for years to come.